Apple iPhone 8 Plus review
27/10/21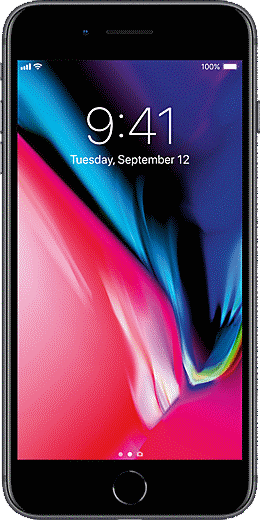 You wouldn't know it at first glance, but the iPhone 8 Plus was quite a big improvement over the iPhone 7 Plus. While they look similar from the front, the later phone's glass back meant it could support Qi wireless charging for the first time. It got a new processor, camera and screen, too.
Apple launched the iPhone 8 Plus alongside the regular iPhone 8 in September 2017. Two months later, the iPhone X eclipsed the regular-sized phone, but there was no plus-sized flagship to steal the iPhone 8 Plus' thunder. So is it better value than newer big iPhones like the iPhone XS Max or iPhone 11 Pro Max? Find out in our iPhone 8 Plus review.
Pros
Iconic design

Reasonable performance
Cons
Four generations old

Basic camera

Small screen for its size
iPhone 8 Plus review – overview
By the time the iPhone 8 and iPhone 8 Plus launched, the classic iPhone design was looking increasingly dated next to newer phones with narrower borders. Rumours had been circulating that Apple planned to refresh its iconic design, but when the mainstream iPhone launched, it looked almost identical to the iPhone 7.
For the regular iPhone 8, that was a major problem. Criticised for its conservative looks, it was almost finished off when Apple launched the flagship iPhone X just two months later. The iPhone 8 Plus fared better, though – it was the only big iPhone you could buy until the iPhone XS Max launched a year later.
The iPhone 8 Plus was undoubtedly a step up from the iPhone 7 Plus, with an improved camera, screen and battery. It also had a better rear camera than the iPhone 8. But while it's a big phone, the iPhone X actually has a bigger screen.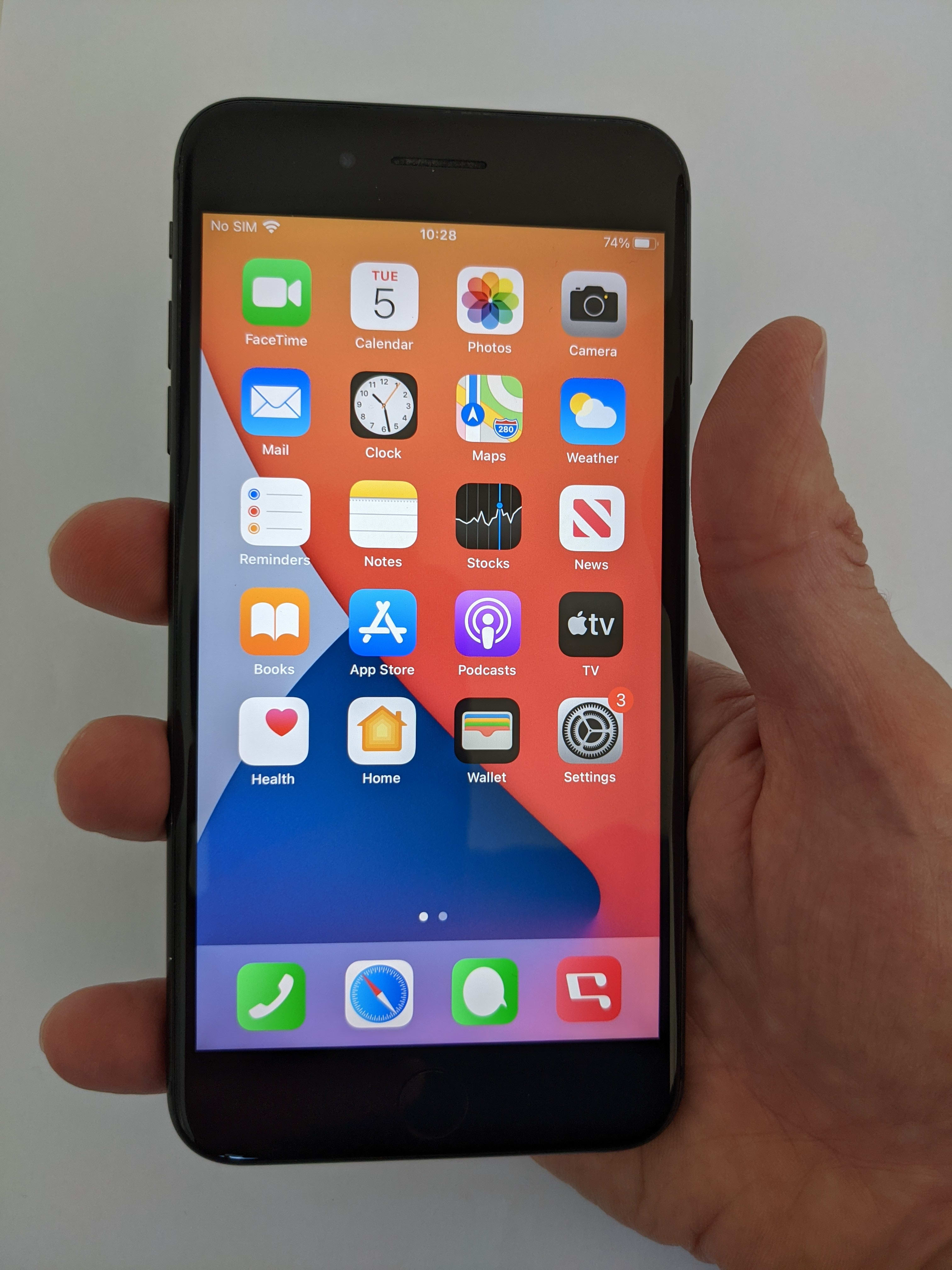 The iPhone 8 Plus may look the same as its predecessor from the front, but at the back it's a different story. The metal back of earlier iPhones prevented inductive charging, so Apple replaced it with a glass panel – a feature they've retained ever since. It's polished here, and home to just a small camera mound for the twin lens rear system.
Pick up the iPhone 8 today and it looks like a tiny screen lost in a small phone. That's not the case with the iPhone 8 Plus – mainly because its screen is much bigger in relation to the borders above and below it. Its curved sides are similar to later iPhones, so they're comfortable to hold, even though the phone's width makes one-handed typing a chore. That said, it's marginally smaller than the iPhone 12 Pro Max – and 36 grams lighter than the iPhone 13 Pro Max.
While the iPhone 8 Plus is dated, it's also a classic – even today it looks good in Space Grey. It's visibly not the latest thing, but surprisingly appealing all the same.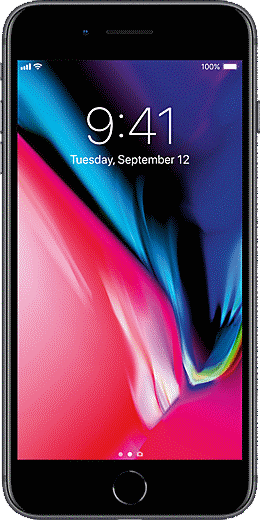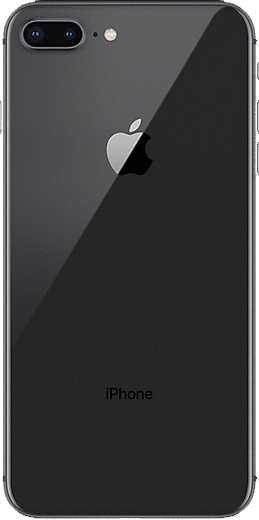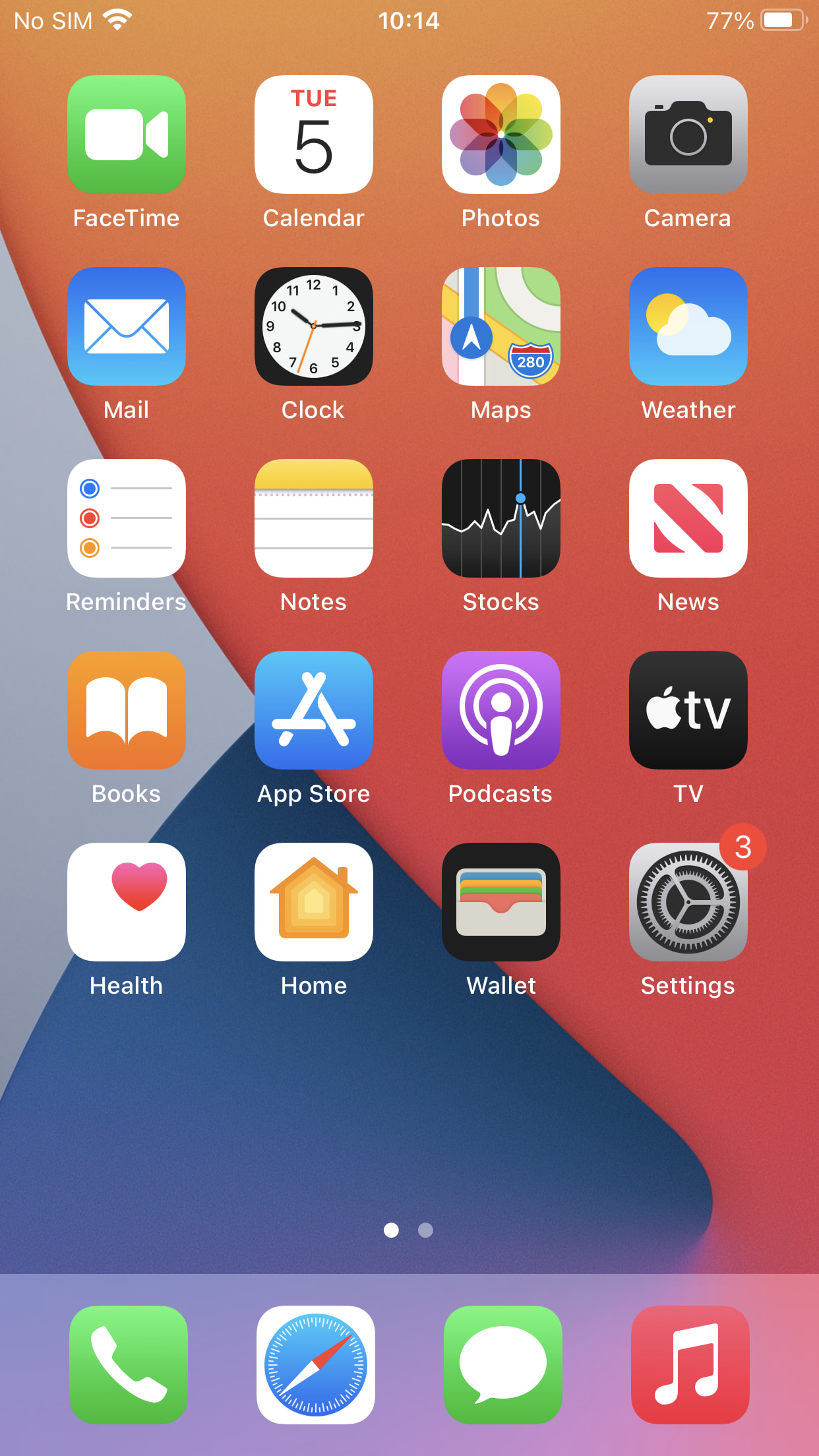 The iPhone 8 Plus improves over the regular iPhone 8 with a 5.5" display – roughly 35% bigger than the smaller phone's 4.7" screen. Importantly, its native resolution is 1,920×1080, which means it can show 1080p HD content without having to downscale it. It's not a bad display, but compare it to newer LCD screens like the one on an iPhone XR and it seems less clear, less evenly backlit, and less bright, even if it has a higher pixel density (401 pixels per inch vs 326ppi).
Unfortunately, the screen has a bigger problem. Two months after the iPhone 8 launch, the iPhone X arrived. Despite being much closer to the regular iPhone 8 in size, its lack of borders meant it could squeeze in a bigger panel than even the iPhone 8 Plus. Worse still for this big phone, the iPhone X's OLED display has a far higher resolution, is brighter and offers vastly improved contrast.
Ditching the bezels from the iPhone X onwards allowed Apple to transform its iPhone screens. Nearly all iPhones launched since the iPhone 8 Plus have a bigger and better screen, and Pro Plus models particularly do. In other words, we wouldn't buy this phone for its screen.
iPhone 8 Plus – camera and video performance
While the iPhone 8 camera wasn't great, the iPhone 8 Plus had some important upgrades. Most significantly, it has a 12-megapixel, two-camera system, including telephoto and wide lenses. It also has Portrait Mode – which means far more creative and flexible portrait shots – but only on the rear camera.
Unfortunately this phone doesn't have Night Mode, available since the iPhone 11. With smaller lenses and sensors than today's phones, it can't capture as much light, so low-light photography is particularly disappointing. We've used the latest iPhones to take a portrait in a small bathroom lit only by another phone's screen. With the iPhone 8 Plus we needed to hold the screen up close to the subject's face.
It may not match today's cameras, but this is still a decent camera for everyday snaps. It copes well in a variety of reasonable lighting conditions, producing strong portraits in particular. It's got some useful video features, too, including 4K support, and 1080p slow-mo at up to 240 frames per second.
The front camera is more basic. With only 7MP it can't shoot 4K video, and there's no Portrait Mode or image stabilisation. Overall the iPhone 8 Plus is OK for casual snappers, but if you're more serious about photography or filmmaking, you'll need something newer.
iPhone 8 Plus – performance
Geekbench 5 results
CPU single-core scores:
iPhone 13 Pro – Score= 1,746

iPhone 11 – Score = 1,334

iPhone 8 Plus – Score = 922
iPhone 13 Pro – Score= 4,899

iPhone 11 – Score = 3,442

iPhone 8 Plus – Score = 2,145
3DMark Wild Life Extreme results
Best scores:
iPhone 13 Pro – Score= 3,118

iPhone 11 – Score = 2,141

iPhone 8 Plus – Score = 854
Worst scores (20-minute loop):
iPhone 13 Pro – Score= 2,235

iPhone 11 – Score = 1,442

iPhone 8 Plus – Score = 589
The iPhone 8 family and iPhone X shared Apple's first Bionic-branded chip, the A11 Bionic. Replacing the A10 Fusion, it helped consolidate Apple's lead over the Android competition – but that was four years ago. While it's still a decent processor, it's now far behind the latest iPhones and much of the Android competition.
While the iPhone 8 won't run the 3D Mark Wild Life Extreme benchmark, this phone will. It's the newest iPhone that can't beat a score of 1,000, managing just 854. That's less than half what you'd get from an iPhone 12 Pro Max, and behind lots of mid and high-end Android phones. We should also point out that, like other iPhones, this one slows down to manage heat. During 20 one-minute loops of this benchmark, its lowest score was 589 – a fall of 31% compared to peak performance.
In 2017, this phone would have been the one to beat in Geekbench 5. Its single-core score of 922 is still impressive, being about 57% of the 1,605 we recorded from the iPhone 12 Pro Max. But while it's still ahead of all but the fastest Android phones in this test, its multi-core score of 2,145 is well beaten today by even mainstream competitors.
This isn't a bad performing phone, but it's some way short of today's quickest. There's plenty of grunt here for general use and a bit of light gaming, but if you want the fastest frame rates, you should look at something newer.
iPhone 8 Plus – battery performance
Apple has made big strides in battery life since this phone was made, and the iPhone 8 Plus doesn't compare well to newer devices. When new, Apple said it could last for 14 hours of video playback on a single charge – an hour longer than the iPhone 8. In our test it looped an HD video for just short of 10 hours, which is more than two and a half more than we got from the regular iPhone 8. That's not bad, but the iPhone 11 Pro Max lasted almost twice as long in the same test. In practice, you're likely to get a day's use out of this phone, provided you don't overdo it on Netflix.
You can charge quickly when you need to. Using a 20W charger we topped up to 50% in 28 minutes, and got to 80% in 56 minutes. A full charge completed in just over two hours. It's handy to be able to charge wirelessly if you want to avoid clutter. Chucked on the Qi dock in a modern car, the iPhone 8 Plus charged without incident.
Battery life (movie playback)*
iPhone 13 Pro – Time = 19hr 2mins

iPhone 11 – Time = 14hrs 45mins

iPhone 8 Plus – Time = 9hrs 47mins
iPhone 13 Pro – Time = 53mins

iPhone 11 – Time = 55mins

iPhone 8 Plus – Time = 56mins
*Battery life test involves looping the playback of an HD movie from fully charged until the phone shuts down.
iPhone 8 Plus – options and additional features
The iPhone 8 Plus came with 64GB, 128GB or 256GB of storage – an upgrade from the 32GB given to the entry-level iPhone 7. You could get it in four colours: red, silver, gold and Space Grey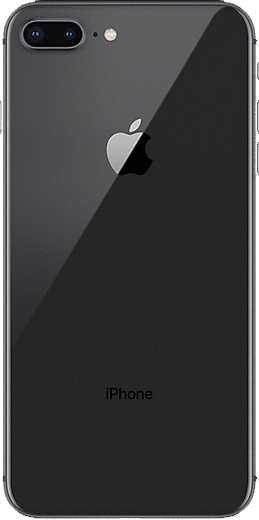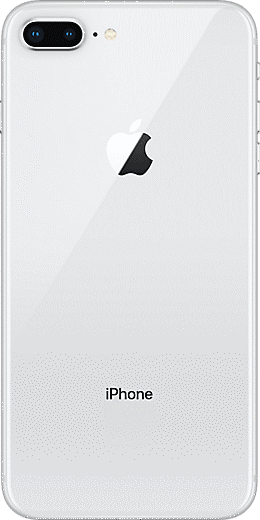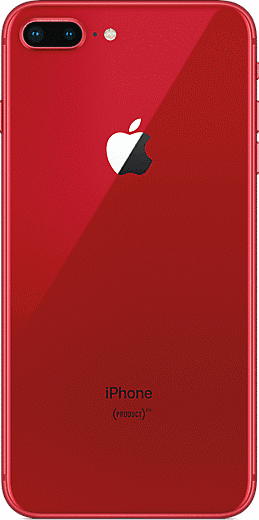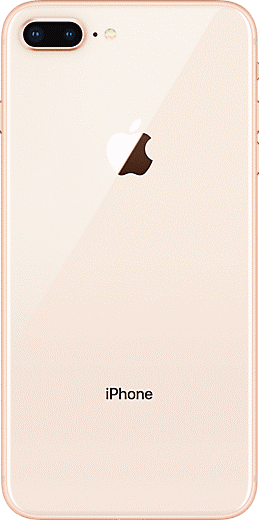 iPhone 8 Plus – build quality and things to look out for
The iPhone 8 Plus didn't suffer from the logic board fault that affected a small number of the standard iPhone 8. Well looked after examples ought to still be in full working order.
At the same time, even the newest examples of this phone are now three years old, and their batteries may no longer have the performance they had when new. You can check this on an iPhone by opening the Settings app, selecting Battery, then tapping Battery Health.
The iPhone 8 Plus was the last big iPhone to use the original design language. Whether that makes it a classic or a dinosaur, it still looks surprisingly good. Time has been less kind to the phone's innards, however. Its screen, battery life, camera and processor are all several generations behind, meaning that this phone is only really suitable for undemanding users.
Like the iPhone 8, however, this phone's biggest problem is the iPhone X. Although it launched only two months later, it packaged a bigger, better screen into a significantly smaller phone, and added some new features for good measure. When a refurbished iPhone X costs about the same, and you can grab a refurbished iPhone XS for little more, it's hard to recommend the iPhone 8 Plus to anyone.