Apple iPhone 13 Pro review
28/10/21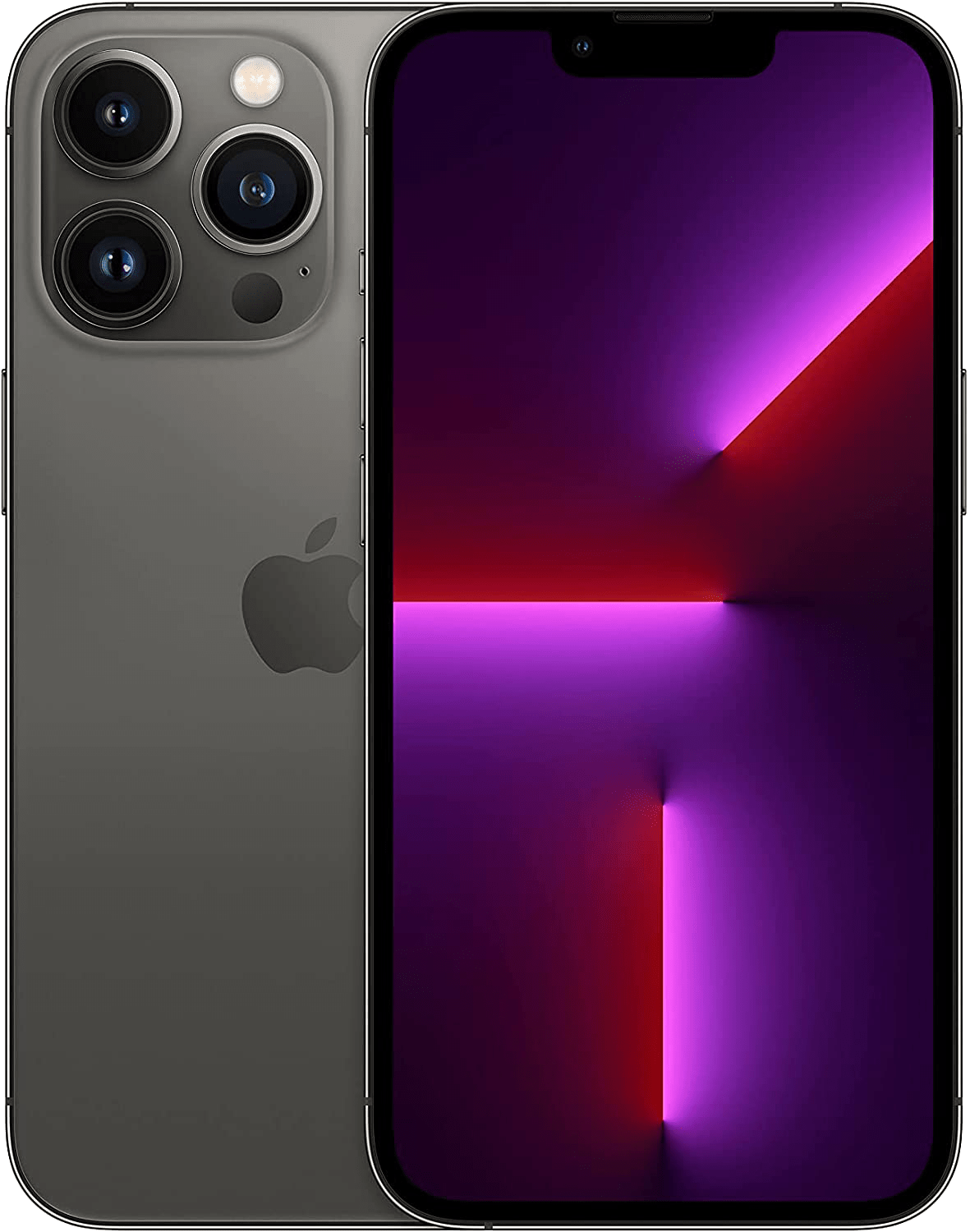 The iPhone 13 might be an evolution of the lovely iPhone 12, but the iPhone 13 Pro is a much bigger step forward. Major upgrades to its cameras, screen and processor give it a significant edge over the standard iPhone – let alone anything else. Is this the best iPhone ever? Read more in our iPhone 13 Pro review.
Pros
Brilliant design

Exceptionally powerful

Stunning camera

While the iPhone 13 moves things on subtly from the iPhone 12, the iPhone 13 Pro gives its predecessor a wedgie and runs off singing We Are the Champions. The iPhone 12 Pro was brilliant, but the iPhone 13 Pro is massively improved. It's got an all-new camera, a better battery, a new screen, and the fastest processor ever squeezed into a phone. There's even a new 1 terabyte (TB) option, too.
All this brilliance means that there's a much bigger gap between the mainstream and flagship versions of the iPhone 13 than there was with the iPhone 12. Despite this, the price difference remains similar. That's not to say that this is a cheap phone, though: pay Apple's prices and the 128GB model will set you back £949, while the full terabyte weighs in at £1,449. For a phone. To understand why it might be worth it, you need to look at the details.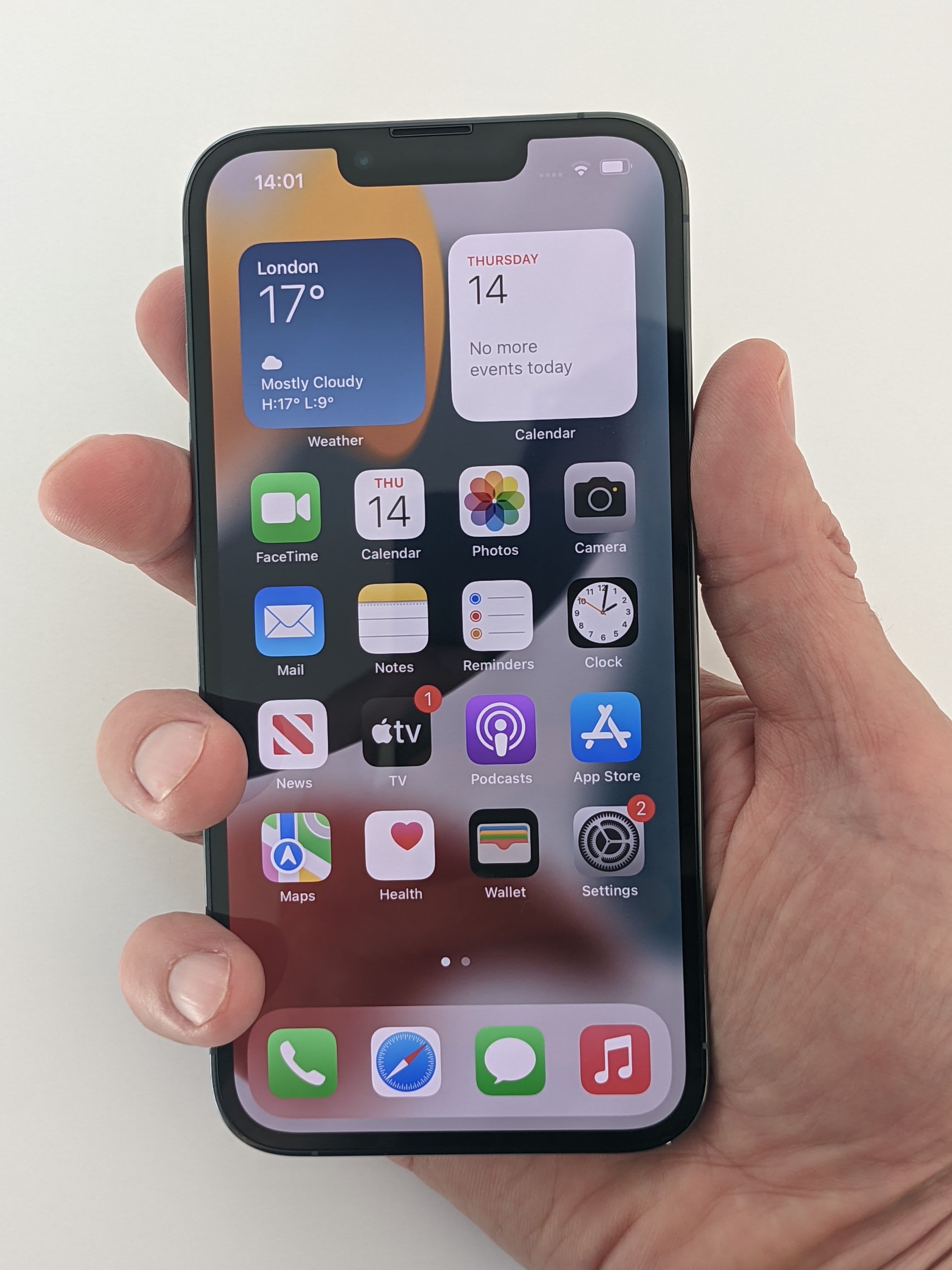 The iPhone 13 Pro looks almost identical to the iPhone 13 – and the iPhone 12 Pro for that matter. Continuing Apple's 'bezel-less' design, its screen glass runs almost to every edge of the phone. While other smartphones leave their glass exposed at the edges, the iPhone's thin borders are flush with it, protecting the sides and corners of the screen from drop damage. Like the iPhone 12, this generation gets toughened glass at the back, with super-tough Ceramic Shield glass over the screen.
While the standard iPhone 13 has a polished glass rear, with frosted aluminium edges, the Pro-level iPhone 13s have frosted glass with shiny, stainless steel edges. The iPhone 13 Pro's rear panel isn't plagued by fingerprints in the same way, but they do show up on the sides.
The biggest visual difference between the iPhone 13 Pro and other iPhones is the huge camera mound on the back. It's ugly, frankly, bristling with almost military looking hardware. There are three huge black lenses, together with an LED flash, microphone and a LiDAR sensor as big as the camera on a lesser phone. Not only is the hump wider than on earlier phones, at 2.5mm it's quite a bit thicker.
Yet overall this isn't a big phone. At just 147mm tall and 72mm wide, it's easy to use one-handed if your hands aren't too dainty. It still looks great, too, and while its rear camera is a bit of an eyesore, there's good reason for it – as we'll explain shortly.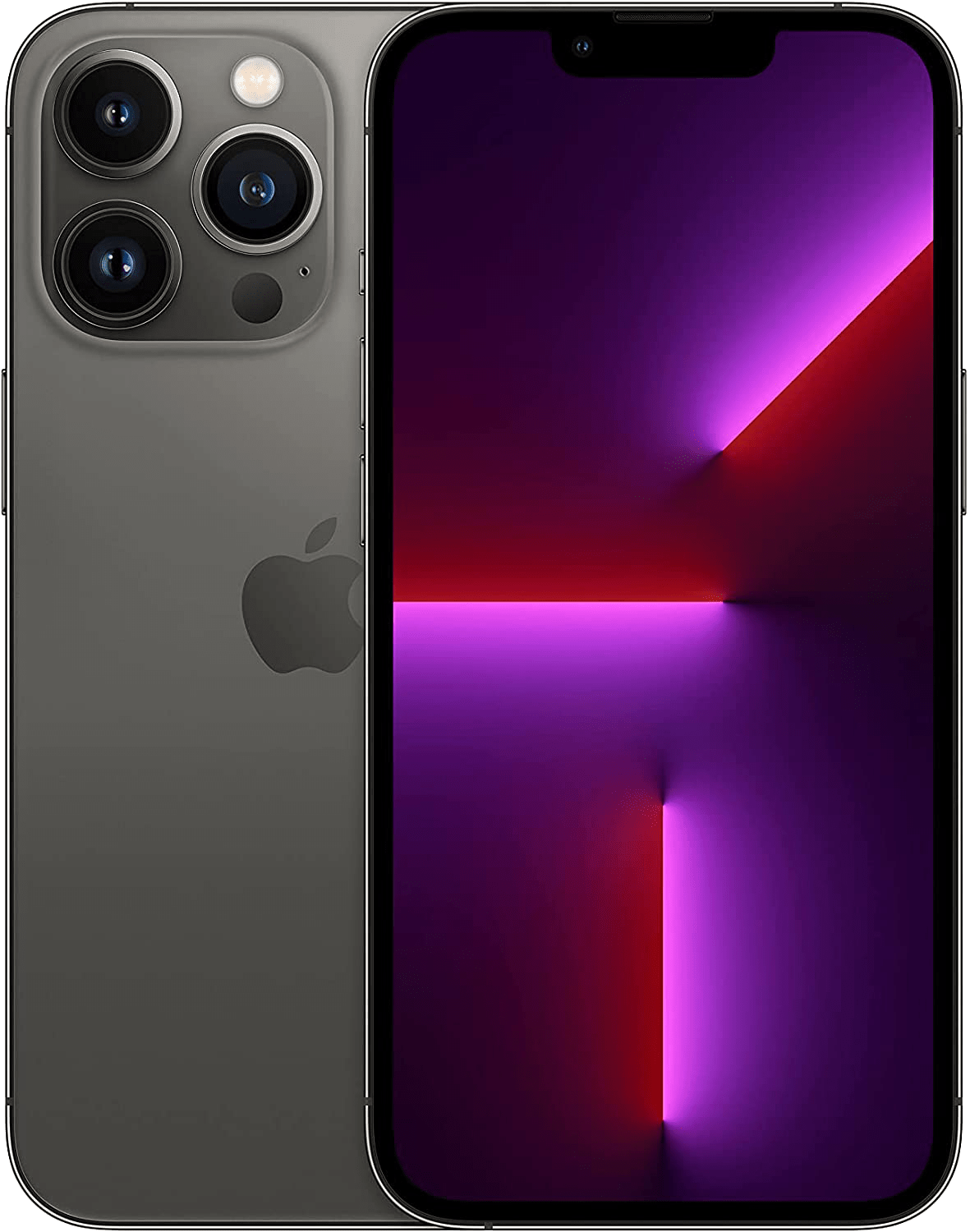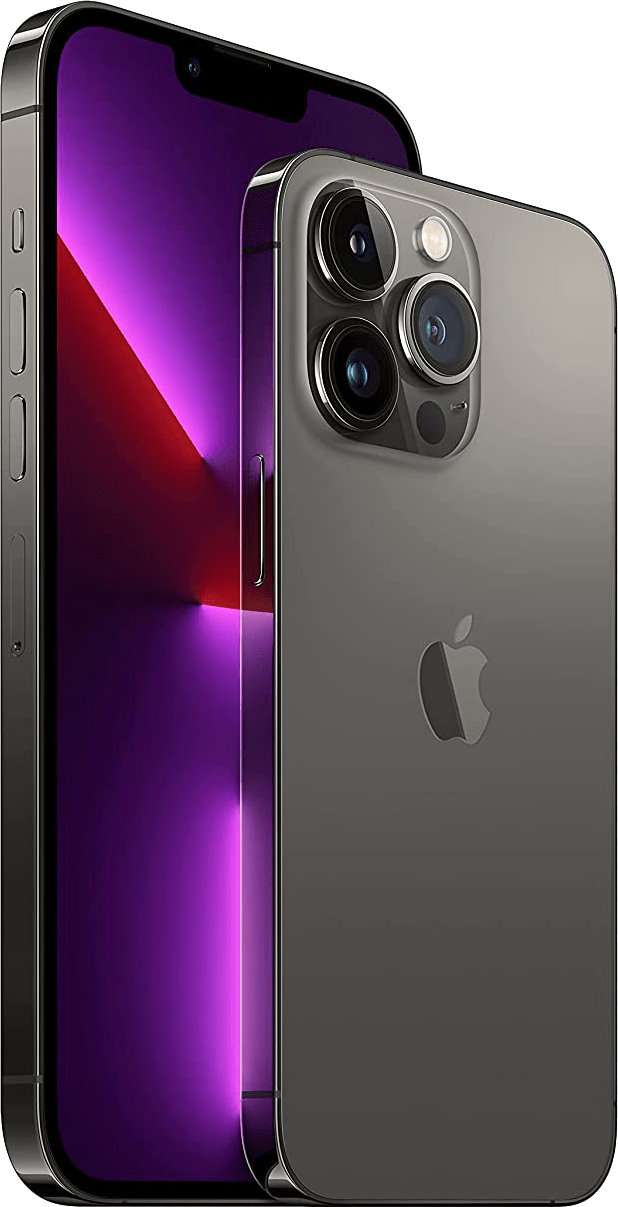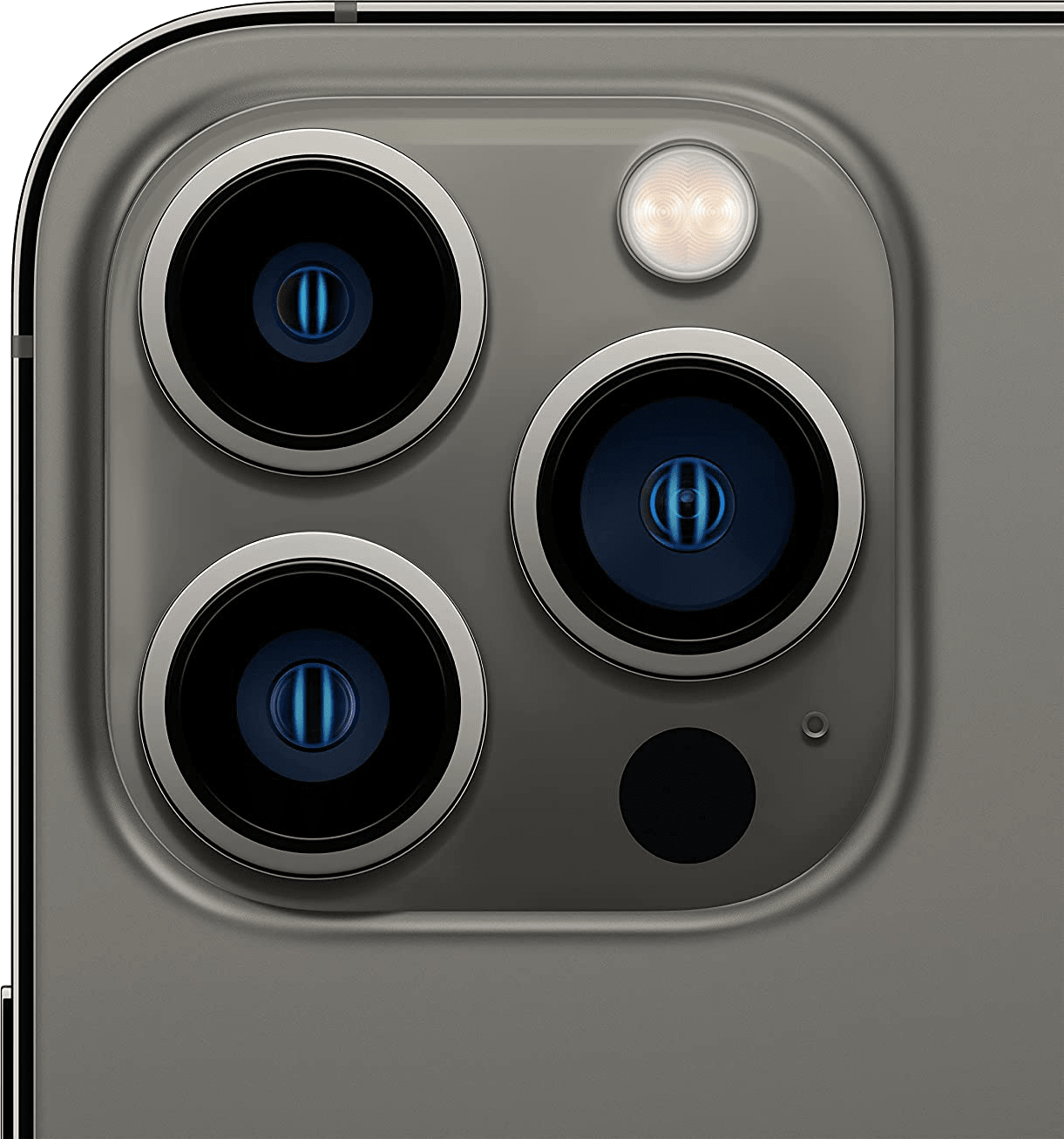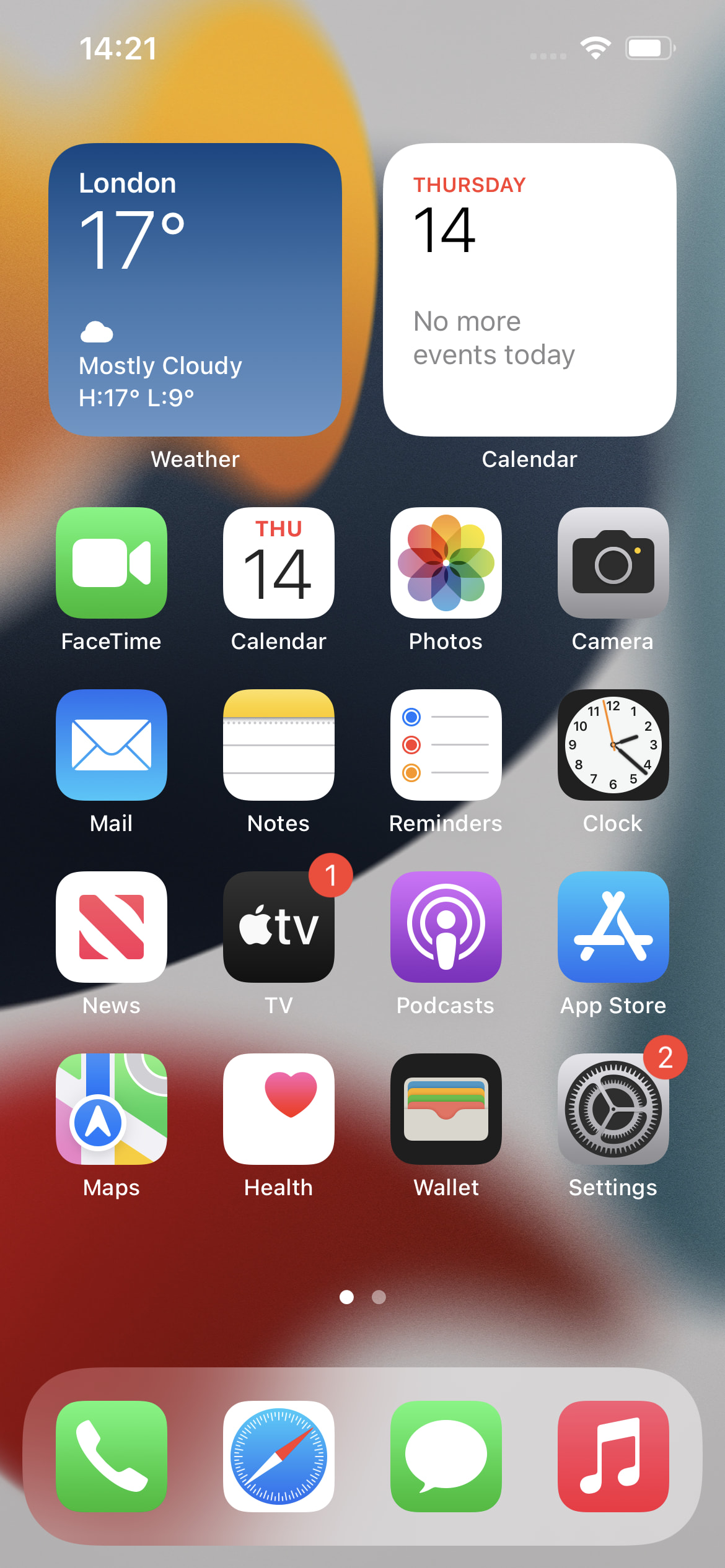 The iPhone 13 Pro's display is the first area where it steps ahead of the iPhone 13 – let alone the iPhone 12 Pro. The key figures are unchanged: it's still a 6.1" OLED screen with a 2,532×1,170 resolution, which works out at 460 pixels per inch (ppi). However, it's brighter, with a maximum 1,000 nits compared to 800 for the iPhone 13 and iPhone 12 Pro.
Apple brands the all-new panel as the Super Retina XDR display with ProMotion, which means it's the first iPhone to get a 120Hz refresh rate. This figure describes how frequently the phone redraws the screen. Until now – and including the iPhone 13 and iPhone 13 mini – iPhones have stuck with the default 60Hz. This means the screen gets refreshed sixty times each second, but in recent years, rivals have increasingly moved on to 90 or 120Hz. These faster rates allow for smoother motion, and help a powerful phone make the most of high framerates in games.
With ProMotion, Apple has created a flexible system that extends to 120Hz when needed. It can also drop as low as 10Hz when the screen's contents aren't changing, helping save battery life.
We compared the iPhone 13 Pro to the standard iPhone 13. At rest, the most obvious difference between the two was a slight difference in tone with True Tone – which adjusts the screen to ambient conditions – enabled. The iPhone 13 Pro wasn't obviously brighter indoors, but it was slightly easier to read in direct sunlight. Certain system animations were noticeably smoother, for example when expanding or swiping out of apps.
Individually the improvements are subtle, but taken together they add up to a superior screen. It's still not perfect, though. While Apple has managed to shrink the infamous 'notch' housing the TrueDepth front camera, it's still intrusive when you're watching full-screen content. It can even cover up controls in some games and apps – you may find yourself rotating the screen to avoid it.
iPhone 13 Pro– camera and video performance
Apple introduced subtle but worthwhile upgrades to the iPhone 13 camera, but those to the iPhone 13 Pro and Pro Max are huge. Like the iPhone 12 Pro, the iPhone 13 Pro has a triple-camera, 12-megapixel (MP) system, but it's improved in almost every other way. While the telephoto lens now has a narrower aperture – ƒ/2.8 compared to ƒ/2.0 – it has a longer focal length. This means that, despite not letting in as much light, it can make the subject even bigger than before – the iPhone 13 Pro has a 6x optical zoom range.
There have been major changes to the wide camera's sensor, which is now larger with comparatively massive 1.9µm pixels – bigger even than on the iPhone 13. The lens aperture has also been widened slightly from ƒ/1.6 to ƒ/1.5, with the benefit of improved sensitivity and reduced noise when there's not much light. Apple says that the new wide camera is up to 2.2 times better than the iPhone 12 Pro in low brightness.
The ultra-wide improvements are arguably more significant. Not only has its aperture widened from ƒ/2.4 in the iPhone 12 Pro down to ƒ/1.8, there's a new autofocus system that can focus as close as 2cm from the camera. For the first time, you can use an iPhone for macro photography – it's also available in video, slo-mo and time lapse modes.
This phone's big physical camera upgrades go hand-in-hand with two new software-driven features: Photographic Styles and Cinematic mode. The first lets you tune the tone and sharpness of photos using five customisable presets. If you've ever found iPhone photos too cool, for example, this lets you change them to your liking.
Cinematic mode uses a narrow depth of field and autofocus tracking to add a cinematic, tightly focused effect to your videos. The phone automatically picks out dynamic elements of a scene – for example, a person who's just walked into shot – 'pulling' focus onto them and blurring the background. It generally works best in dynamic shots with pets and people, and you can edit the focus points on the phone after shooting – although we found that a little hard to master.
The iPhone 13 Pro and Pro Max can both shoot photos in Apple ProRAW, which preserves the full detail of a scene allowing greater fidelity and control. They can also shoot, edit and export ProRes video at up to 30 frames per second – although on the 128GB model this is limited to 1080p resolution. Again, this pro-level format offers higher colour fidelity and less compression.
The 12MP front-facing camera is mostly unchanged from the iPhone 12 Pro family, but it does get an upgrade from 30 to 60 frames per second (fps) Dolby Vision recording. The camera also supports the new Cinematic mode and ProRes video format.
iPhone 13 Pro– What's it like to use?
The iPhone 13 Pro's rear camera is one of the most impressive we've ever used. It excels in low light, able to resolve ridiculously detailed photos in near-dark conditions, even when handheld and unsteadied. Videos are stable and fluid – thanks in part to sensor-shift stabilisation, and macro photography and videography add another dimension to what's creatively possible on a phone.
Even outside of the headline features, the iPhone 13 Pro makes the most of its prodigious image processing power to make photography better. For example, the camera doesn't just highlight faces in a scene, it instantly picked out and focused on a cat, even when she was facing away from the camera.
The only mis-fire we noticed was that the improved Smart HDR 4 system couldn't cope with a telephoto shot into bright autumn sunlight. While the bulk of the scene was exposed perfectly, part of the sky was bleached out into white.
iPhone 13 Pro– performance
Geekbench 5 results
CPU single-core scores:
iPhone 13 Pro – Score= 1,746

iPhone 13 – Score = 1,723

iPhone 12 – Score = 1,590
iPhone 13 Pro – Score= 4,899

iPhone 13 – Score = 4,612

iPhone 12 – Score = 4,052
3DMark Wild Life Extreme results
Best scores:
iPhone 13 Pro – Score= 3,118

iPhone 13 – Score = 2,523

iPhone 12 – Score = 2,175
Worst scores (20-minute loop):
iPhone 13 Pro – Score= 2,235

iPhone 13 – Score = 1,983

iPhone 12 – Score = 1,494
Apple fans will already know what to expect. With every new iPhone, Apple rolls out an improved processor that edges ahead of the last iPhone, and keeps it comfortably in front of the competition. But wait! The iPhone 13 Pro has something extra up its sleeve.
While the whole iPhone 13 family shares the latest A15 Bionic processor, the iPhone 13 Pro and iPhone 13 Pro Max both get a more highly specified version. Instead of a four-core graphics processing unit (GPU), able to work on four things at once, the flagship phones get five. On paper it's a small difference, but benchmark results tell a different story.
We use Geekbench 5 to measure a phone's general performance, starting with a CPU benchmark. While the iPhone 12 Pro recorded a single-core score of 1,603, and a multi-core score of 3,967, the iPhone 13 Pro managed 1,746 and 4,899 respectively. That's a decent step up, and a little ahead of the 1,723 and 4,612 scored by the regular iPhone 13.
Things were far more interesting with Geekbench's Compute benchmark. While the iPhone 12 Pro managed 9,255 here, the iPhone 13 recorded 10,505 – a 14% improvement. The iPhone 13 Pro, however, blitzed everything else we've ever tested, notching up a mighty 14,439 – 56% better than the phone it replaces.
Given its better GPU, it's perhaps less surprising that the iPhone 13 Pro is just as dominant in the 3DMark Wild Life Extreme benchmark, designed to test performance in demanding games and 3D applications. While the iPhone 12 Pro scored 2,216, and the iPhone 13 weighs in with 2,523, the iPhone 13 Pro achieved 3,188. Not only is that 44% up on the phone it replaces, it's 26% better than the standard iPhone 13.
If there's a downside to this massive performance, it's that it produces a lot of heat, which means the iPhone 13 Pro needs to slow itself down. After 20 minutes of Wild Life Extreme, the phone's score had dropped to 2,235. That's 30% down on its best, but still faster than the peak score from the iPhone 12 Pro, which also slows down with prolonged intensive work. Interestingly, although the iPhone 13 was more stable, slowing by only 21% in the same test, it felt noticeably warmer throughout.
You'll notice we haven't mentioned how this compares to any of the Android competition. The short reason for that is that it's almost irrelevant – the iPhone 13 Pro is comfortably faster than any other phone you can buy, other than the iPhone 13 Pro Max. Its Wild Life Extreme score is almost double what you might expect from the Samsung Galaxy S21 5G, whereas its Geekbench 5 multi-core score is about 40% up on the OnePlus 9 Pro. If you want the fastest phone available, this is it.
iPhone 13 Pro– battery performance
Check this phone's battery life and it's hard to avoid the impression that Apple has worked a miracle. Despite its ridiculous processor, it looped an HD movie for 19 hours – that's five hours more than we got from the iPhone 12 Pro, and enough to last for a flight from London to Perth. More realistically, it has plenty of power to get you through the day – only the most media-intensive use is likely to leave you needing a top up. With more typical use, the battery might last through two full days.
When the battery's dead, it's quick to recover. Hooked up to a 20W charger, the iPhone 13 Pro reached 50% in 28 minutes. It went on to hit 80% in 53 minutes, and was fully charged in a little under two hours. You can also recharge it on a Qi wireless pad – it was quite happy to charge on the dock in a modern car.
Battery life (movie playback)*
iPhone 13 Pro – Time = 19hr 2mins

iPhone 13 – Time = 18hrs 46mins

iPhone 12 – Time = 13hrs 50mins
iPhone 13 Pro – Time = 53mins

iPhone 13 – Time = 55mins

iPhone 12 – Time = 53mins
*Battery life test involves looping the playback of an HD movie from fully charged until the phone shuts down.
iPhone 13 Pro– options and additional features
You can buy an iPhone 13 Pro in up to 16 combinations of colour and storage. Typically for the flagship iPhone, the four available colours are more muted than on the standard phone: gold, graphite, silver and Sierra Blue. It's a similar palette to the iPhone 12 Pro, but we preferred the darker Pacific Blue, which is discontinued.
Unusually for an iPhone, the iPhone 13 Pro can be had with four different storage levels. Going by Apple's pricing, the entry-level 128GB will set you back £949. You'll pay £1,049 for 256GB, £1,249 for 512GB, or £1,449 for 1TB (one terabyte). That is a lot of money, but there are a few things to note.
First and most importantly, the 128GB model is limited to 1080p resolution (rather than 4k) when shooting ProRes video. This might sound like cost-cutting, but it's probably sensible given that a minute of 4k ProRes footage will apparently take up 6GB. Secondly, at launch the iPhone 13 Pro is actually cheaper than the iPhone 12 Pro, which launched costing £50 more when comparing the same storage.
Unwrap a new iPhone 13 Pro and you'll find only the phone and a Lightning cable in the box. You'll need either a modern USB charger with a USB-C port, or a USB-A to Lightning cable and an older charger or device. If you want headphones, you'll either need Bluetooth, or a pair of EarPods with Lightning connector – the phone has no 3.5mm audio port.
There are no other options, but as always you can choose from a huge range of official and third-party accessories, including Apple's MagSafe cases and chargers. Unfortunately, upgraders can't re-use the case from an iPhone 12 Pro – it won't fit around the new phone's bigger camera hump.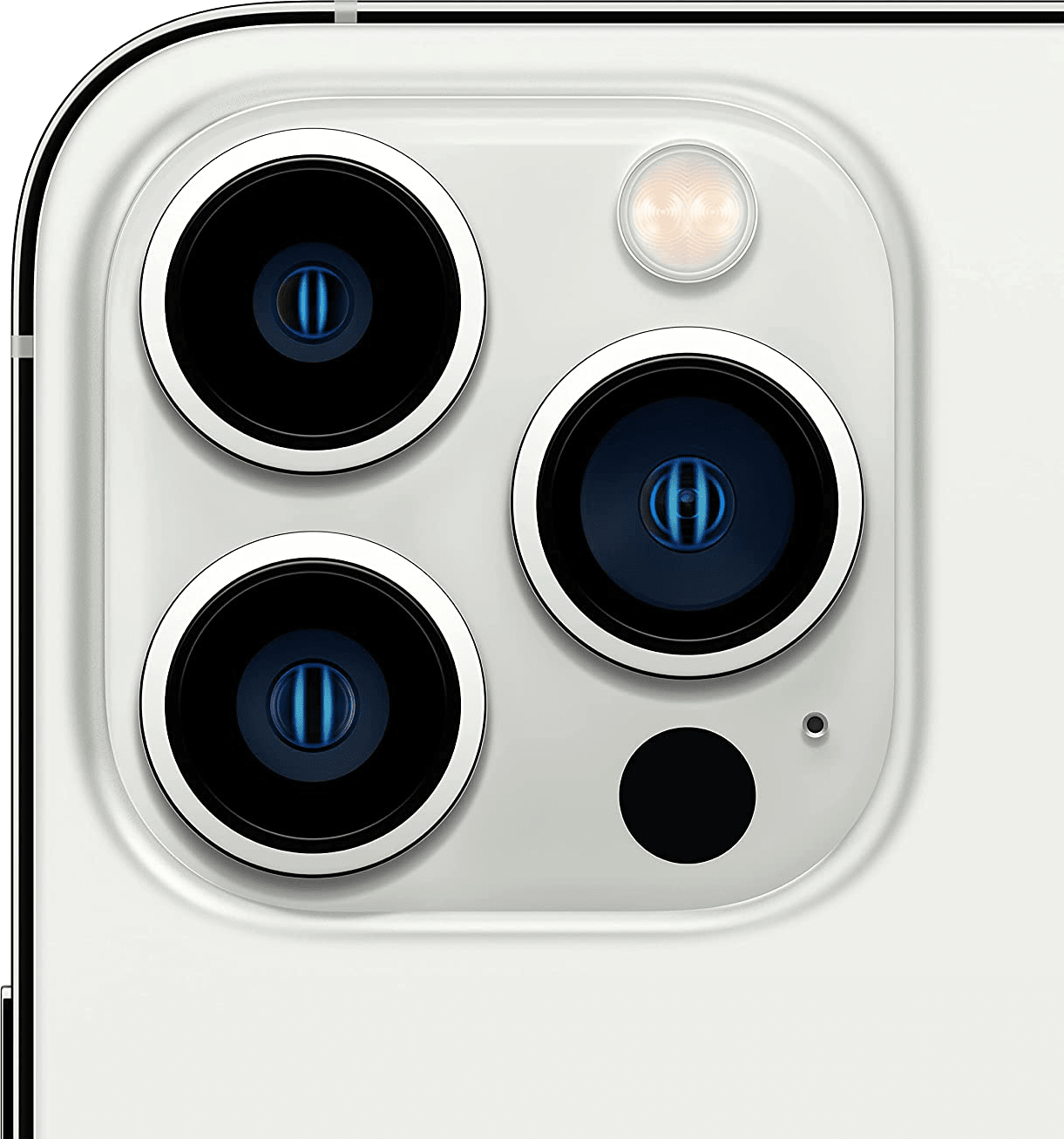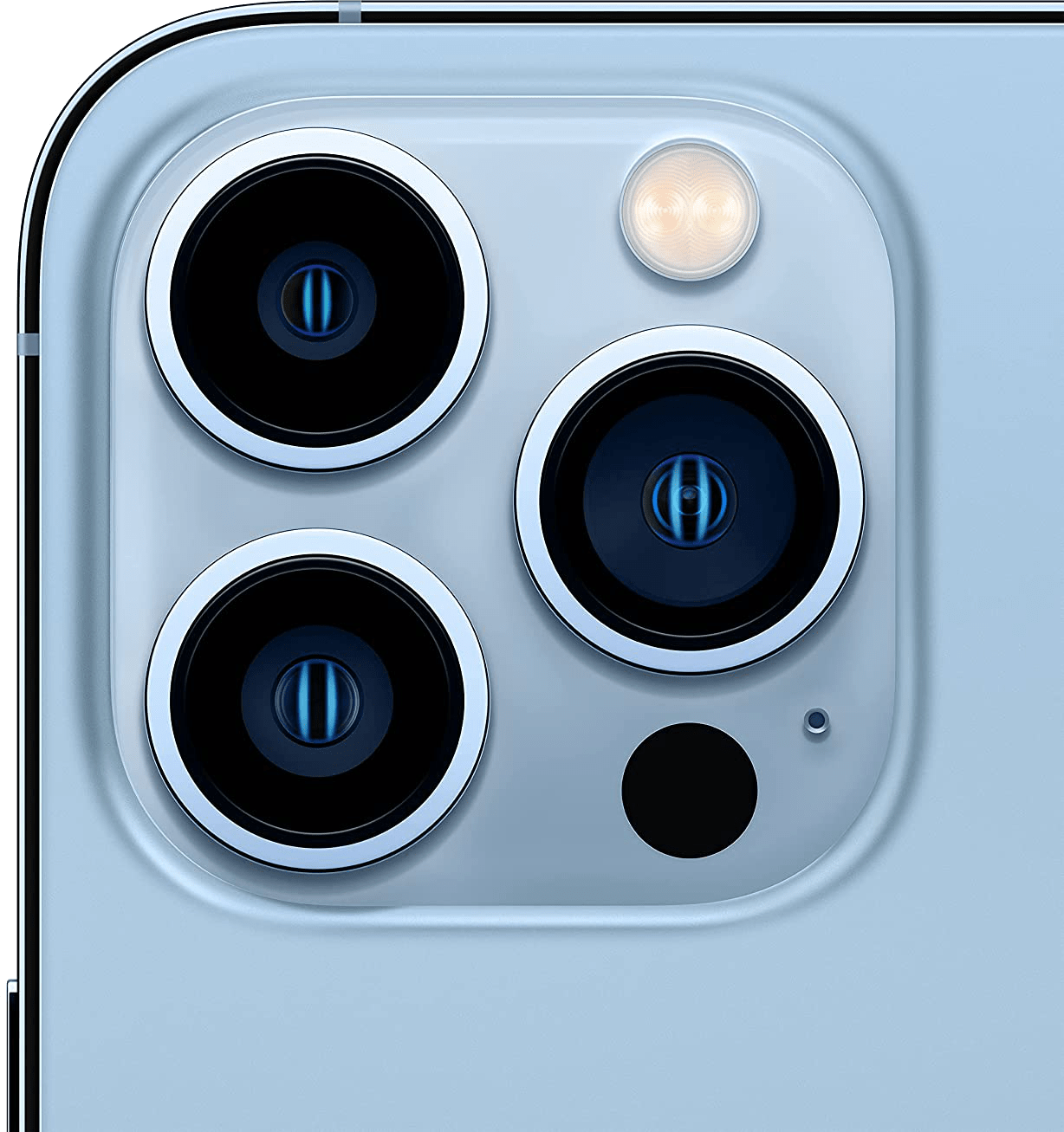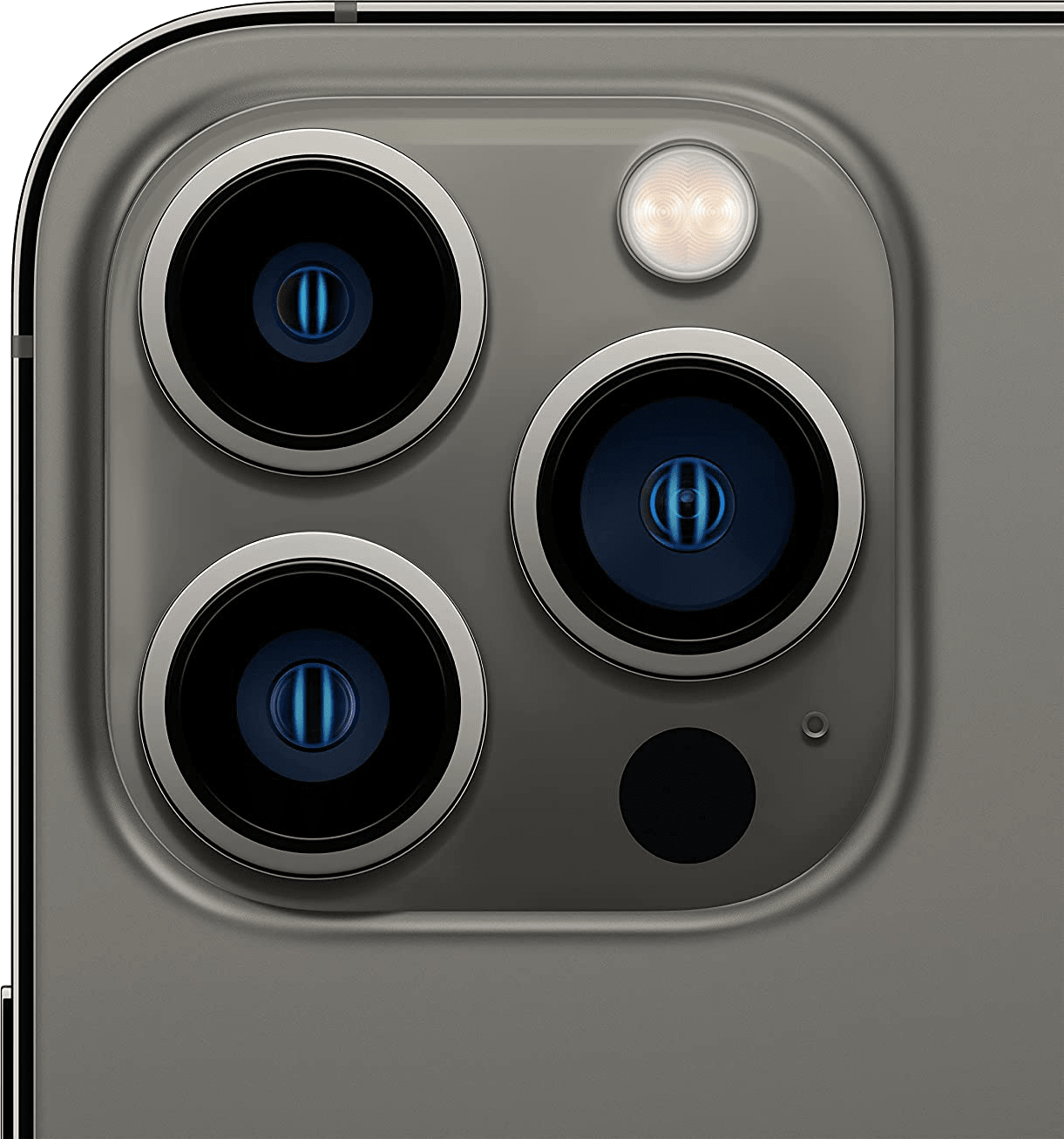 iPhone 13 Pro – build quality and things to look out for
It's too soon to say for sure, but the iPhone 13 Pro seems to be without any major issues at launch. Previous tests have shown that its Ceramic Shield glass ought to withstand all but the most brutal impacts, but that the rear glass is more likely to shatter in a fall. There's also the reassurance that Apple provides software updates for around seven years, which should help preserve the phone's value.
Given how much the iPhone 13 Pro is worth, we'd generally recommend putting it in a case and using a screen protector, even if it does dilute the design. Similarly, you should really consider phone insurance that covers accident and theft – this is a very desirable phone.
It's no surprise at all that the iPhone 13 Pro is better than the iPhone 13 and iPhone 12 Pro. What's surprising is just how much better it is. With a new processor, camera and screen, it obliterates its excellent predecessor – though if your budget won't stretch to the latest thing, a refurbished iPhone 12 Pro is still a good choice.
Apple's flagship phones are always an improvement over the mainstream model, but with this generation the difference is particularly stark. Compare the iPhone 13 and the iPhone 13 Pro and the latter has a slicker screen, much better camera, and – for the first time – much faster performance. Yet the price gap, storage for storage, has shrunk to just £170.
If you can't justify the premium price, buy an iPhone 13 and you won't be unhappy. But if you've plenty to spend, or you just want the best smartphone money can buy, grab the best iPhone 13 Pro deal you can find.