iPhone 15 vs iPhone 14: How do they compare?
13/09/23
The latest iPhone 15 brings some updates, but is it worth upgrading?
iPhone 15 vs iPhone 14: USB-C is now standard
Everyone knew this was going to happen but it's now officially confirmed – the new iPhone 15 features a USB-C port to replace the lightning port that has been used on iPhones for years.
USB-C is the same connection port you find on most Android phones, MacBooks, iPads and more so it's nice to see it standardised on the iPhone 15 too so we can all use the same cable.
The iPhone 14 still includes the trusty lightning port so you'll need a lightning cable to charge that model. They usually come with one, and if you're a long-term iPhone user, you've no doubt got a drawer full.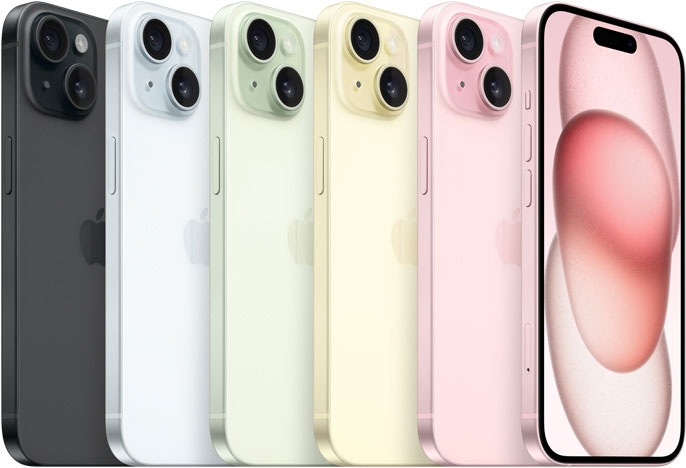 iPhone 15 vs iPhone 14: Dynamic Island arrives

iPhone 14 doesn't support Dynamic Island but the new iPhone 15 does. Dynamic Island is the Apple-term for its interactive notifications bar at the top of the screen that is used to hide the camera notch.
It can be used for all sorts, including showing you what music is playing, flight times and more.
Beyond that change, the displays on the iPhone 15 and 14 models are the same – 6.1 inch on the standard model and 6.7 inch on the Plus model. Both are OLED displays but the iPhone 15 is slightly brighter than the iPhone 14.
iPhone 15 vs iPhone 14: Processing power
The iPhone 15 features the A16 Bionic chip – this is the same chip that was found in last year's iPhone 14 Pro. This is something Apple now does – the chip found in the standard iPhone is not as fast as the Pro model.
The iPhone 14 is powered by the A15. In reality, unless you're using really demanding applications for video editing and gaming, you're unlikely to notice a huge difference between the two in day-to-day use.
iPhone 15 vs iPhone 14: More megapixels

The iPhone 15 has a 48MP (megapixel) main rear camera which is an upgrade from the 12MP main camera on the iPhone 14. This effectively lets you take more detailed photos, assuming you're going to print them out at hang-on-your-wall size. On screen, it's not going to be hugely noticeable but low-light mode has been improved so shots at night should be better on the iPhone 15.
Apple has also upgraded Portrait mode on the iPhone 15 – faces (including those of dogs and cats) are automatically recognised and you can now add the portrait effect to any photo after it has been taken.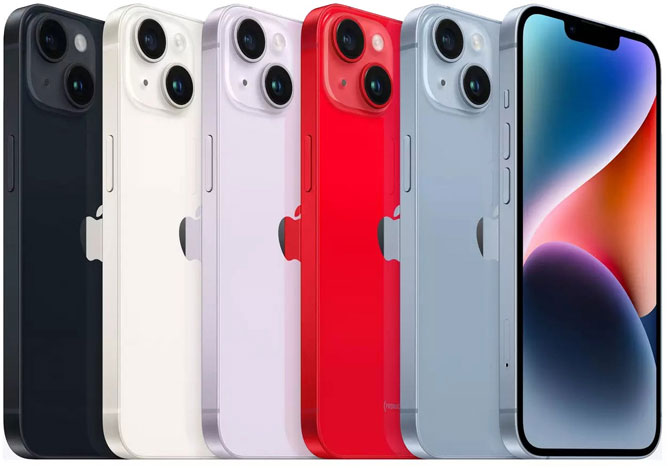 iPhone 15 vs iPhone 14: New colours
The iPhone 14 is available in midnight, purple, starlight, red, blue and yellow. The new iPhone 15 is available in five colours: pink, yellow, blue, green and black.
iPhone 15 vs iPhone 14: Summary

They're very similar, although one notably costs a fair bit less – especially if you buy it refurbished. The main upgrades you'll be paying for on the iPhone 15 are the 48MP main camera, Dynamic Island, a faster chip and slightly smoother design, and of course USB-C connectivity.
No doubt the iPhone 14 will continue to be a great option for many over the next few years.